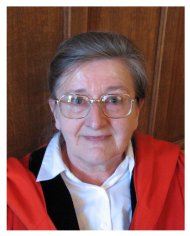 NEWS:
Margaret Barker's Summer School this year will be on The Lead Books found in Jordan. It will be held 9th-12th August 2022.
It will be held in the Moravian Church, Ockbrook, Derbyshire, DE72 3RJ, and will also be available on Zoom. For details, please visit www.templestudiesgroup.com
Margaret Barker has developed an approach to Biblical Studies now known as Temple Theology. Margaret Barker read theology at the University of Cambridge, England, and went on to pursue her research independently. She was elected President of the Society for Old Testament Study in 1998, and edited the Society's second Monograph Series, published by Ashgate. She has so far written 17 books, which form a sequence, later volumes building on her earlier conclusions.

Since 1997, she has been part of the symposium Religion, Science and the Environment, convened by His All Holiness Bartholomew I, the Ecumenical Patriarch. This work has led her to develop the practical implications of temple theology as the basis for a Christian environment theology.

In July 2008 Margaret Barker was awarded a DD by the Archbishop of Canterbury 'in recognition of her work on the Jerusalem Temple and the origins of Christian Liturgy, which has made a significantly new contribution to our understanding of the New Testament and opened up important fields for research.'

Margaret Barker is a mother and grandmother, a retired Methodist Preacher and was involved for over 30 years with the work of a Women's Refuge.

Margaret Barker DD has no connection with website Temple Illuminatus.